The fast growing web hosting company in the industry today is Bluehost. For good reason, they offer affordable pricing, comparable features, and great customer support.
Powering over 2 million websites worldwide.
That is a lot of websites just like yours. It doesn't matter if it's a WordPress site, blog, or an e-commerce store. Bluehost can get you instantly set up and live on the internet in a matter of minutes.
Bluehost Features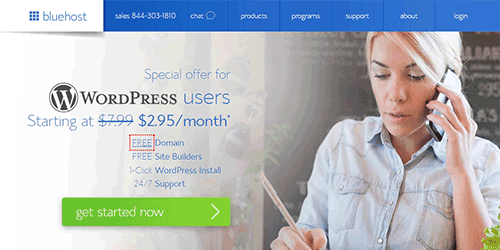 One first thing you will notice with Bluehost is how great their pricing is. But they aren't all about just offering the lowest price. They give you unlimited website hosting, space, and bandwidth.
$4.45 / month for new customers
Unlimited website hosting
Unlimited bandwidth
Unlimited disk space
cPanel control panel
CloudFlare content delivery network
WordPress hosting
$150 in Google advertising
Guaranteed 99.9% load time
Money back guarantee
24/7 customer support
More than 2 million customers
Bluehost Wordpress

If you have or want a WordPress site, Bluehost specializes in Wordpress. Not sure how to get your Wordpress site started. Just use their instant 1-click installation.
Bluehost is the #1 recommend web hosting provider by WordPress.org.
WordPress is one of the most versatile content management sytems available today. You can host any type of website with it. Business sites, blogs, small business, and e-commerce.
It is easy to use and is the most popular CMS system. There is a huge community of designers and developers that are always available for advice, tips, and guidance.
Performance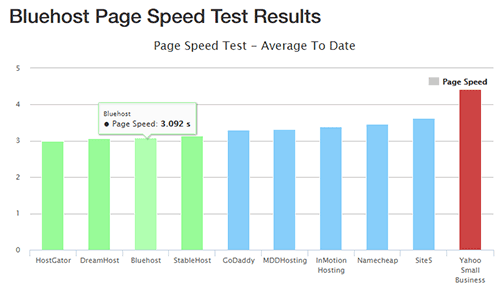 All web hosting companies will claim that they have incredible speed and load times. For Bluehost this is valid. They had one of the fastest average page load times compared to the hosting companies.
Their average load time was 3.092 seconds.
This is from their overpower servers that include:
16-core AMD Opteron
256GB DDR3 RAM
64 Raid SSD Drives
8x 1 Gigabit LAN ports
CentOS 6
LAMP environment
What Others Think
Having over 2 million users, Bluehost isn't short from the positive experiences other customers are having.
Chris McDonald from christmcdonaldnc.com wrote this:
I carefully reviewed all of the options that were available. I knew I wanted to use Word Press, but who to host it was a huge question in my mind. This was the best decision I could have made. Blue Host has been easy to use, quick to load, plenty of support available.
Chris looked at the other web hosting companies. But what brought her to Bluehost was the expertise in WordPress and how easy it was to get it set up.
Chinedu Ngwu from webhostinghero.com was a new Bluehost customer:
Indeed, I will recommend bluehost to every webmaster. I have been using bluehost for a couple of months now, and as a matter of fact, it appears to be the best webhosting service I have seen so far. For once, I have never experienced any form of downtime or similar issues.
He has used others in the past but has found that Bluehost has great uptime and hasn't had a problem so far.
Jon Penland has had a similar experience with Bluehost's uptime guarantee:
I've been a Bluehost customer for the past 3 years at the Plus web hosting level. I build WordPress powered websites and simple HTML/CSS/JavaScript sites. In that time I have never seen service go down long enough for me to notice it (so as far as I know, it never has!).
Even after 3 years with blue host, Jon still recommends them to everyone. It is also his choice to take advantage of Bluehost's WordPress expertise.
Bluehost Pricing

Bluehost plans start around $3 / month, this is for this basic package. Which is even for developers starting a new website or a WordPress site. This plan only supports one website.
I recommend their $4.50 / month plan. This gives you unlimited website hosting, bandwidth, and disk space. To offset the cost, they will through in $200 worth of vouchers for your marketing plan. This includes vouchers to Google Adwords and Bing Ads.
Bluehost Discount
Bluehost constantly runs promotions on their basic shared hosting plan.
Why Choose Bluehost
Bluehost is the number one growing web hosting company in the United States. They are doing this with competitive pricing, great customers service, and 99% uptime guarantee. If you have any problems with them take advantage of their 30-day money back guarantee.