After looking at the mainstream of web hosting companies it's a nice change of pace. A provider that is solid with their pricing and gives you all the features for any type of website.
HostMonster is that type of web hosting. Low prices, great features, with 24/7 customer support. Perfect for anyone that is looking to start a WordPress blog, e-commerce store, or a business website.
HostMonster Hosting Plans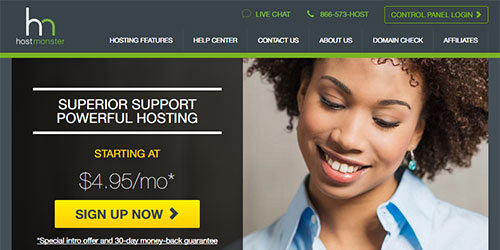 HostMonster offers shared, VPS, and dedicated hosting plans. For most of you, a shared hosting plan is going to be sufficient. With their shared hosting plan, you get unlimited hosting for a fraction of the price.
$6.95 / month for new customers
Unmetered bandwidth
Unlimited website hosting
Unlimited disk space
Free domain name
cPanel control panel
SiteBackup pro protection
Spam Prevention
1-Click WordPress install
Free site builders
Guaranteed 99.9% load time
30 Day money back guarantee
24/7 customer support
HostMonster WordPress

If you are looking to start a WordPress site, HostMonster makes it easy. You can use their 1-click installation and within minutes your site is ready to be used.
If you are looking for other applications, take advantage of their Mojo Marketplace. This service has over 100 plugins and themes for the top open-source applications. All ready to be installed with 1-click. This service includes other popular CMS systems like Drupal, Joomla, and Magento.
Performance
HostMonster is one of the fastest shared web hosting companies you can choose today. They have beat out top companies in the industry. They have quality redundant systems to make sure you have the maximum uptime for your website.
HostMonster vs GoDaddy

With HostMonster going up against the largest web hosting company in the industry. They come in .20 seconds faster than GoDaddy in page load time.
HostMonster vs HostGator

HostMonster came in .10 seconds slower than HostGator in page load time. HostGator has a great reputation of reliable servers and it shows.
HostMonster shows that they are as fast and reliable as any of the major companies in the industry. Plus giving you a free domain name, 1-click applications, and a 24/7 support team.
What Others Think
Looking around at other customer's experiences. You will find a lot of people pleased for the features and pricing they get with HostMonster.
Chad Pederson from pedersonwalty.com has been with HostMonster for 8 years.
I've been a HostMonster customer for about 8 years. I host all kinds of different custom HTML and WordPress websites on my HostMonster account. I've never had an issue with downtime, service, etc. Everything seems tor run very smoothly. FTP always works. I like the cpanel interface.
From coding his own HTML to have a WordPress site, Chad still hasn't experienced any downtime in 8 years.
Michael Mav from mikeoscorp.com has had a great experience with their customer support team.
Hostmonster is an AMAZING host for people hosting anything from a personal/E-Commerce site, to a business site. They provide all tools needed for a great website. Personally, i've never had a problem with HM and whenever i had a question, i got a solution.
Michael has used them to run personal sites and even e-commerce sites. With all the tools that HostMonster provides, he still hasn't had any issues.
Skip Brott from ntitservices.com has only had a positive experience with HostMonster.
I have no idea who is posting these other reviews by my experience has been completely positive with Hostmonster. I have used a couple of competitors and had issues primarily with downtime. I host about 10 different domains currently with Hostmonster and the only downtime I have ever had was planned and they would send emails in advance notifying me of the planned outage including dates, times, and expected length.
Even that downtime he received from HostMonster was planned and notified to him. There was no surprises or reasons to contact their support team.
HostMonster Pricing

HostMonster has three levels of shared hosting pricing. A Basic, Plus, and Prime plan. As the Basic plan will work for most cases, I would recommend the Plus or Prime plan. Because you get more options for domain hosting and more space for your website.
For those who are planning an e-commerce store. You may want to look into their Pro monthly package. This gives you the security options like dedicated IP address and SSL Certificate, with site backup. All the necessities to process credit cards through a merchant account.
HostMonster Coupon
To save some money, check their homepage for any special promotions or sales. They constantly are offering great deals to new customers.
Why Choose HostMonster
HostMonster is a great choice for those who are looking to start a new website. They give you tools like application installers for WordPress or a custom site builder. If your website grows and needs an upgrade, HostMonster has VPS and dedicated servers at your disposal.