If you like to help save the environment and have green web hosting, then GreenGeeks has you covered. They are one of the fewest web hosting companies that focus on using renewable energy.
They put back 3 times into the grid through wind energy that we consume.
They are the industry leaders in green energy web hosting. They have been in business since 2008 and have customers from 150 countries across the world.
GreenGeeks Features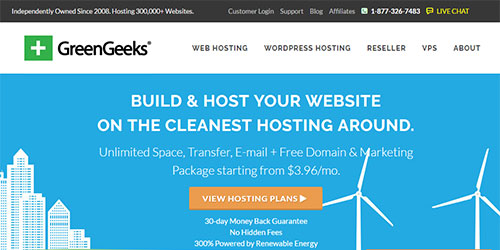 Not only does GreenGeeks have 300% green web hosting powered by renewable energy. They provide all types of hosting like, shared, reseller, VPS, dedicated and WordPress.
$3.96 / month
Unlimited website hosting
Unlimited bandwidth
Unlimited disk space
Free domain name
Free site building tools
Free marketing & SEO tools
Secure email accounts
Google apps integration
99% service uptime
30 Day money back guarantee
24/7/365 US based customer support
What Makes Them Different

As mentioned before, they are a hosting company that focuses on renewable energy. But they offer much more than that.
They have all types of upgrading options available. If you site needs more performance they have VPS servers and dedicated servers. No need to jump around to different companies trying to find one that will work.
First, they give you a free domain name with your account. If you are coming from a different web host, they will transfer your domain name and website for free.
1-Click installer for popular content management systems like WordPress, Drupal, and Joomla. Not to mention the 150 more applications that are available.
If you have a custom idea, take advantage of their free website builder. Using their Drag n' Drop user interface to make the perfect professional website.
Performance

GreenGeeks are up front with what type of infrastructure they have behind the scenes. They are committed to have the latest technology in their hardware and software. To make sure your website is performing at its high optimal speed.
Their minimum server specifications are as follows:
Intel Xeon processors
64 GB DDR3 RAM
RAID-10 SSD hard drives
Solid state drives acceleration
Gigabit connection
BGP4 Gigabit Fiber GigE Tier 1 backbones
Battery backups
Temperature climate control
What Others Think
After being in business for since 2008, they have a lot of customers on Twitter tweeting what they think of GreenGeeks.
Robyn Von Krek (@KittyVonKrek) said:
Need a host provider? Use @GreenGeeksWHost. Fantastic service and friendly support even when you do stupid sh*t like delete a database.
Robyn has had great success with GreenGeeks support team. Even when she made the mistake, their team was there to help her get her data back.
Jess Moreno thinks GreenGeeks is the best:
@GreenGeeksWHost is seriously THE best! I'm so needy lol but they are always there to walk me through everything. Thank you!
Jess also had a great experience with their support team. They took the time to guide her through setting up her website.
Steven from webhostinggeeks.com has been a loyal customers for years:
I've been hosting for many years with all the top hosts on the net but I've still to find a host like GreenGeeks ... Second to none, in every way!
Even after all his years with GreenGeeks Steven still hasn't found a service that is comparable.
Mary Luketich with bizwebshop.com has cut her costs with GreenGeeks:
GreenGeeks reduced the cost of our server by 2/3rds, saving us hundreds of dollars a month! We moved from a dedicated, managed server to an unmanaged vps server. The migrated the largest 30 sites FREE for us.
Mary had to change her hosting type to a dedicated to VPS. Even will her 30 sites, GreenGeeks migrated them over for her with no cost.
GreenGeeks Pricing

Their pricing is going to reflected what type of service you need for your website: shared, reseller, vps, or dedicated.
Shared hosting will cost you around $3.96 per month. This gives you unlimited hosting, free domain name, and site building tools.
Reseller plans where you can sell some of your web hosting space to other clients. Plans start at $19.95 / month for unlimited client accounts.
If you need a server with more power with dedicated resources to only your website. You will need to upgrade to their $39.95 / month VPS server.
For those who need an entire server for top performance will be looking for a dedicated server plan. These start at $169 / month.
Why Choose GreenGeeks
GreenGeeks don't only care about the service they provider to their customers. But they are also making an effort to help the environment.
There isn't anything better than getting a great web hosting provider and doing your part to help save the enviroment.