There are a lot of hosting providers that offer cheap packages for single domains. This is fine for someone that is starting a fresh website or new business.
What about someone that has multiple business websites?
That is where HostPapa comes in. Keep true to their Canada web hosting roots. They have one of the cheapest hosting packages for users that want to host multiple websites. Complete catering to the business savvy user.
HostPapa Best Features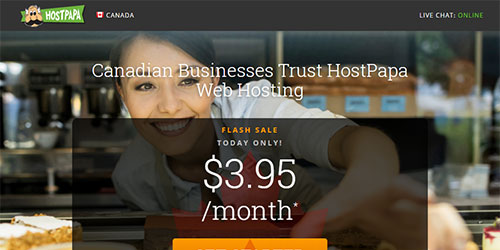 HostPapa offers everything you would expect from a shared hosting company. Plus a few added bonuses to help you get a kick-start, not too mention the $200/year in extras.
$3.95 / month
Unlimited websites
Unlimited email accounts
Unlimited disk space
Unlimited bandwidth
Website Builder
Free domain name
FREE 30-minute training session
Content delivery network
24/7/365 award-winning support team
Operated in Canada since 2003
30-day money back guarantee
Getting Started With HostPapa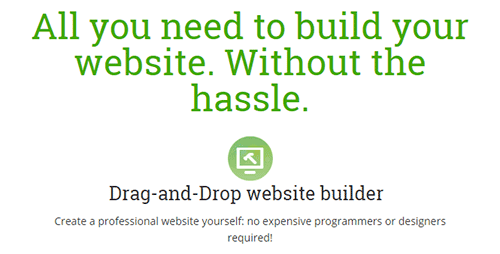 There are multiple options once you get your account with HostPapa. There is new to hosting, where you get your FREE domain name and access to their easy to use control panel. If you need help, take advantage of their telephone, chat, and email support team.
If you have a domain name already, they have you covered. With their FREE domain transfer service, with transfer assistance.
New domain or transferred domain, you are now ready to use all the features of HostPapa. With their unlimited disk space and bandwidth use the FREE Softaculouse script installer. This will instantly install popular content management systems like WordPress, Drupal, b2eveolution, and more.
For you business users, the installer with help you get your shopping cart installed. Start selling your products in no time all with a FULL RAID backup system.
Performance

HostPapa is constantly upgrading their servers with the latest CPU and RAM hardware. This gives you an infrastructure to ensure the highest possible speed and performance.
Business Pro users can cash in with a free CDN network, plus addtional CPU and RAM power.
With the increase of internet threats, HostPapa is one step ahead. All their servers have the latest technology in security to help protect your site.
Plus additional security options:
SSL certificates
Automated website backup
Domain privacy
Identity protection
SiteLock security
*All included FREE as a Business Pro user
What Others Think
There are thousands of users that have taken advantage of HostPapa's features. Whether it's a WordPress blog, e-commerce store, or small business page. You can see a lot of success stories.
Morgan Jackson from webhostinggeeks.com has been using HostPapa for years.
We use host papa for my wordpress website. Our company has been using host papa for a few years with no issues. Our IT/web guy left us a year ago and I had to take over. I was not happy about his as I had ZERO experience with building a website or web hosting in general. I contacted support and they were excellent at helping me gain access to the account.
With having no web development experience. HostPapa's great support team was able to help Morgan get access to their WordPress blog.
Karl Rious from ssikf.com has had a great experience.
I would recommend HostPapa to commercial customers who want reliability efficiency and easy management of their domain / website. I have been dealing with other host in the past and they could not offer the bandwidth Hostpapa is givving me. Also, HostPapa is really affordable and is my choice for our community fire department website.
Karl has found great success for his website for his community fire department. We also recommends them for anyone that has commercial customers.
HostPapa Pricing

Their Starter plan starts at $3.95 a month. Which gives you access to their easy to use control panel, and support team. But you miss out on a lot of features compared to their Business plan.
Their Business plan is a little more, but you get unlimited websites and disk space. Plus more server power, security features, and Free 30-minute training session.
How To Save
You can get access to the Business plan for the same price as the Starter plan. This gives you all the unlimited features, plus additional bonuses that equal $200.
Why Choose HostPapa
HostPapa gives you a lot of features that others will charge extra for. If you have or planning on a small business. I would suggest upgrading HostPapa's Business Pro plan, which includes a FREE SSL certificate and daily backups.