Finding a trustworthy hosting company doesn't have to be a mindless game of surfing the web. There are plenty of web hosting providers that you can trust. InMotion is one of those companies.
They have the number one customer service in the industry. Plus they offer a vast array of different plans to fit your business needs. Their support teams have experienced webmasters that you can help you every day.
InMotion Hosting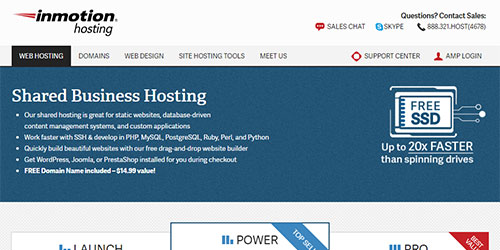 InMotion hosting has a ton of great plans from shared, VPS, dedicated, and reseller. Any of these hosting plans will work any type of project you can think of. With more than 24,000 customers you can see why they have a great fit to your company.
$4.49 / month
Unlimited disk space
Unlimited monthly transfers
Free data backups
Free domain name
Free SSD performance
Free website builder
Easy control panel
1-Click 310 applications
SPAM safe
Guaranteed 99.9% load time
90 Day money back guarantee
24/7/365 customer support
InMotion WordPress

Use InMotion's free 1-click installation and install your WordPress site in minutes. No more wondering how to set up files and database. Just click once and done.
WordPress is a great way for a business to interact with their customers on a personal level. This will not only help build your brand but gives your company recognition. This will not only help create social buzz but help build backlinks to your site. This in return will help your search engine ranking.
A Host Your Can Trust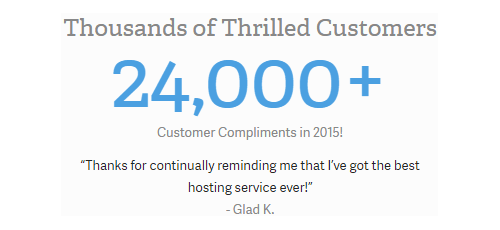 InMotion puts a lot of pride into their customer service. Which is great for the customer. Because there is nothing worse than having your website go down and no being able to get some help.
They have been CNET Certified for over 13 years. Ranking them in outstanding service, secure website transactions, and best business practices.
You can search them in the Better Business Bureau and find their A+ rating. This is the highest rating given by the BBB and shows that they care about their customer experience.
What Other Thinks
With having one of the best support teams and serving over 24,000 customers. It won't be hard to find out what other people think of their service.
Michael Buller from vbjaycees.org uses them for his charitable organization.
I am a volunteer for a charitable organization and was recently handed off the responsibility of managing the website, email server and all other aspects of technology. It was frustrating trying to gather all of the missing information from various parties to manage gaining access to the necessary resources. I started a chat with an InMotion customer service representative and problems started getting solved. I was able to regain access to my host and the administration panel in about ten minutes.
Michael was frustrated when he took over the account. After a 10 minute call with their support team, he was able to get everything worked out.
MaryAnne Nestor from badgesoup.com has been with InMotion for 10 years!
I have used InMotion Hosting for around 10 years. The technical documents are very good and suprisingly, most of the time I can figure out what to do by the online instruction. However, if I am unable to understand what to do and need to call, the guys at inMotion Hosting absolutely provide the best customer service.
Even after 10 years, Mary still believes InMotion has the best customer service around.
Allyson Cataido from hostmarkconnect.com has been with them for a couple of years now and her experience is still positive.
We've used InMotion hosting for several years now. During that time, not only have we had almost zero downtime, but the support has been fantastic as well -- the live 24/7 chat is a great feature, and the service reps are knowledgable enough to help and adept enough to explain solutions in a way that less experienced users can understand. I'd definitely recommend InMotion to everyone.
She definitely recommends InMotion to everyone that needs a hosting provider.
InMotion Pricing

InMotion business hosting starts at $2.95 a month. But I recommend upgrading to the $4.49 a month plan. This gives you the ability to host more websites and create more MySQL database. You may not need it now, but it will be nice when you do.
They also have plans in VPS, dedicated, and reseller hosting.
VPS Hosting starts at $29.99 / month
Dedicated Hosting starts at $99.99 / month
Reseller Hosting starts at $13.99 / month
InMotion Coupon
You won't find many coupons for InMotion. You will find promotions and special deal directly on their website. You don't need to go out and search to find a great deal. Just visit their homepage and see how much you can save.
Why Choose InMotion
InMotion does a lot of things right. They have great features at an affordable price. Plus they strive to have the best customer service. With the different options of hosting plans, InMotion is ready for your website now, and as it grows in the future.