There is a reason some hosting companies have been around for decades. They offer tons of features, strong customer service, at great prices. Making them unbeatable in reliability, quality, and performance.
PowWeb is one of those companies. They were found in 1999 and have continued to position themselves as one of the best "low cost" web hosting providers in the industry.
PowWeb Hosting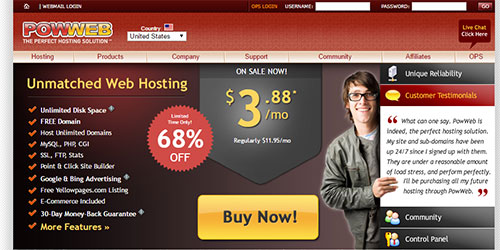 PowWeb gives you everything you need to start your next website. Unlimited disk space, free domain name, and site building tools. Plus they are one of the cheapest hosting providers that gives you full customer support.
$3.88 / month
Unlimited disk space
Free domain name
Unlimited domain hosting
PHP, MySQL, CGI
WordPress instant installer
Point and click site builder
Free instant setup
Google and Bing advertising
Free Yellowpages.com listing
E-commerce platforms included
30-day money back guarantee
24/7 customer support
PowWeb Email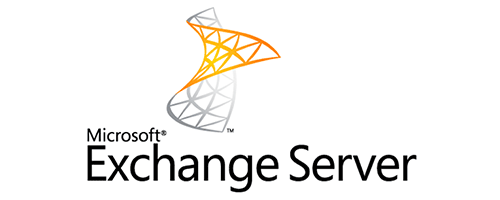 If you are looking to expand your web hosting to use Microsoft Exchange, then PowWeb has you covered. Microsoft Exchange is a business email management application that simplifies your daily tasks.
Microsoft Exchange gives you the ability to:
View your email, contacts, and calendar from anywhere.
Use your smartphone to sync your emails, contacts, and calendar.
Share emails, contact info, and calendar schedules with anyone.
Get free desktop licenses for your person computer.
You don't have to worry about losing your data or security. Microsoft Exchange does all that for you. Including daily backups, integrity testing, and server maintenance. With their remote storage feature, you won't lose any data even if your hard drive crashes.
Additional Services

Once you get your website going and way want to expand your efforts to creating your business. This can be a vast variety of things like security, marketing, and production. Whatever it may be, PowWeb can help.
For protecting your website from disasters and security threats. PowWeb offers daily backup services that are highly recommended.
For websites that are storing customer data. You can install applications to make your site more secure. This software will scan your server for signs of malware or viruses. This can help your server stay off the backlist and gives your customers peace of mind.
If you need help driving traffic and customers to your site. Have them help you with search engine optimization. This will give your site a boost in ranking on search engines like Google.
Other PowWeb Reviews
With PowWeb being in business since 1999, it isn't hard to find what other think of their service.
L.G. Baines from smallbiztoolbag.com has been with PowWeb for awhile now.
They're NEVER down the hosting is Unlimited everything and the rates are good. I've got no beefs at all with these people.
L.G. has never experience any downtime and hasn't had any problems to report.
Salam Zaban from salamzaban.com has been with PowWeb since 2009 and has over 43 websites with them.
I think I am using the Powweb from 2009 and it is the best host that I could find. The support is profesional and I love it and I have now more than 75000 query each hour and I have more than 43 websites on it and I am very happy with the Powweb and its team.
Even with all 43 sites, Salam hasn't had any problems. With having 75,000 database queries going an hour shows how reliable PowWeb is.
Latham Stack from syntectic.com has also experienced no downtime with his time with PowWeb.
I've used PowWeb for ten years to host my simple site, and am not an expert at programming or managing a website. I'm currently very happy with PowWeb, and would recommend them to others. To my knowledge my site has never been down.
Even after ten years, Latham has still not had any downtime to his server. Even with little programming skills, he is fully satisfied with his site.
PowWeb Pricing

PowWeb makes it easy with their plans. There is one plan, one price. You don't need to compare the different features and price compare. You get everything offered at one low price.
How To Save
The easiest way to save with PowWeb is to visit their site. They have great sales that can save you up to 68% off the retail price. Starting a website with PowWeb has never been so easy and affordable.
Why Choose
PowWeb is a cheap way to get your website online in front of your customers. With their one plan, one price plan, you don't have to worry about what features you need or want. You get them all.