In this Yahoo Small Business Review, we'll show you how Yahoo Small Business Hosting is the most professional web hosting company you can get. Offering unlimited disk space, bandwidth and e-mail accounts, there is no stop to your growing website needs for small business web hosting. Yahoo have made many changes to their web hosting plans and features. With the easy design tools and search marketing techniques. $100 Yahoo Search Marketing Credits to get your site started on Search Engines. Yahoo Small Business Hosting has the ability and services to get your website where it needs to be. Right now Yahoo Small Business is offering $8.96 for the first 3 months when you sign up for there unlimited package. Yahoo Small Business has everything you need to start, run and have a successful website.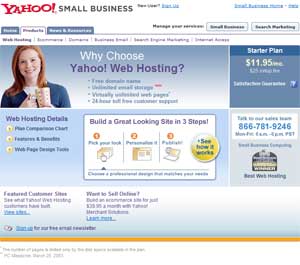 Yahoo Small Business Web Hosting Review, Cost & Features
$6.47 /month
Unlimited Disc Space
Unlimited Bandwidth
Free Domain Name
Unlimited E-mail Storage
Blog Hosting
Secure Servers
$100 Yahoo Search Marketing
24/7 Support
Visit Yahoo Small Business
Pros and Cons
| | |
| --- | --- |
| Pros | Cons |
| Professional | More Than the Other Guys |
| Site Builder | No Free Domain |
| 30-Day Satisfaction Guarantee | High Traffic Customer Service |
| Site Tracking Software | Price Increase After 3 Months |
*Share Your Pros and Cons at the Bottom of the Page.
Yahoo Small Business Features List

Easy-to-use design tools

A checklist that walks you through creating a site
Simple ways to enter and format text and photos
Online site building - no downloads or special software needed



Designs you can customize

Start with one of our professional designs and tailor it to your business. You may find pages created just for your type of business, such as a clients page for law firms.



Features that help convert visitors into customers

Forms to collect visitor information
Maps and driving directions so customers can easily find your business



Reliable and secure

Consistent performance
Sites are up and running 99.9% of the time.*
Backups of your website in different geographic locations in case of emergency
FreeBSD (Unix) operating system and Apache servers 200 password-protected accounts
You can give up to 200 people passwords to access secure parts of your web site.
Shared SSL certificates and encryption
SSL is a method of scrambling customers' sensitive information, like contact details, to protect it from hackers.



Advanced design options

Support for third-party tools like FrontPage 2000/2002 and Dreamweaver**
PHP version 4.3.11 and support for hundreds of PHP functions
Perl version 5.8.7 and support for the standard library plus 12 additional modules
MySQL 4.1, with unlimited databases
Support for most FTP accounts
Support for Flash, Shockwave, videos, and more
Blogging options for beginners and professionals, including Yahoo! 360", WordPress, and Movable Type
Website enhancements, like guestbooks, PayPal payment, Yahoo! Maps, site search, phpBB bulletin boards, and PHP-Nuke content management

Get Support Anytime

24-hour toll-free phone support
Online getting started guides
Video tutorials
24-hour email support
Comprehensive help center



Set Up Email

1,000 email addresses
Unlimited email storage (Questions)
Email access from anywhere on the Internet
Compatibility with email applications like Microsoft Outlook
SpamGuard Plus, for powerful spam protection
Norton AntiVirus, for virus protection



Attract Customers


$100 credit towards Yahoo! Search Marketing

Advertise your business in Yahoo! search results.



$50 credit toward Google AdWords

Advertise your business in Google search results.



Free, automatic submission of your site to Yahoo! Search and Google

We'll make sure Yahoo! and Google know you've published a site, so you're eligible to appear in their search results.



30% off Yahoo! Local Enhanced Listings

Get featured in Yahoo!'s Local Search results.



One-month free trial of GOT Campaigner

Set up a professional email marketing campaign with Yahoo! partner GOT - free!
Build and manage email lists
Create attractive emails



Track Success with Reports

Track number of visitors to your web site (view sample)
View which search engines visitors used to find your site
Find out which keywords people searched on to find your site
Learn the addresses visitors to your site come from